Out Now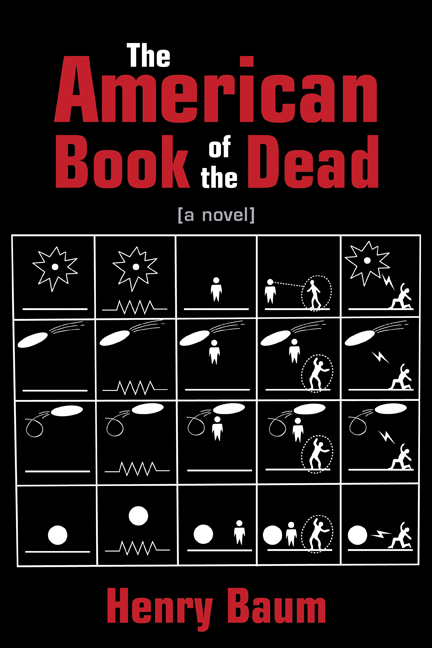 "If you read
Lolita
or
A Clockwork Orange
without drop-kicking the book out into the garden on a rainy day, this novel is for you." Tessa Dick, author of
The Owl in Daylight
, and widow of Philip K. Dick
Go to
The American Book of the Dead
for info.
First Novel
Available from
Another Sky Press
:
Previously published as:
Soft Skull Press in the U.S., Rebel Inc. in the U.K., and Hachette Littératures in France
Scenes from
The Golden Calf
"This pacy, tightly written novel is like 'Taxi Driver' meets Charles Bukowski's
Factotum
."
Uncut
"An amusing, persuasive insight into obsession, stalking and the disintegration of sanity. Highly recommended to anyone with a bitter hatred of Tom Cruise and Hollywood stars in general."
Butterfly
"This cynical story of Californian lowlife remains true to its sleazy starting-point, and it is a marvel of pace and comic timing....Much of Baum's narrative bears a similarity to Dostoevsky's
Notes from the Underground
."
Daily Telegraph
"Manages to shed some new light on the process of losing control. Seen from Ray's monosyllabic point of view, the book makes a persuasive case for the idea that an inability to communicate on even the most basic levels is one of the main reasons why countless Americans take to the streets with a gun."
The Times
"A bleak morality tale, interspersed with humor and the voice of a rounded character, troubled as he is."
The Herald
"There have been some fantastic book written about Hollywood...
The Golden Calf
is a welcome addition....With a superb narrative control, Baum paints a portrait of male dysfunction set to explode."
The List
"Ray is nearly as good a portrait of post-collegiate angst as has been painted so far." Adam Heimlich,
New York Press
"Fast-paced, funny, intense, insane! A fine debut from H. Baum." John S. Hall, founder of King Missile
"Explores the hazy junction where the teeth of the daily grind sink into the day-dreamt certainties of life's true bell-head sounds." Lee Ranaldo, member of Sonic Youth
Second Novel
Buy it at Lulu, Amazon, Barnes & Noble, or Powells

Download it free:




The novel can be downloaded "You set the price" in different ebook formats at:




Also available to be read online at Scribd.

"The narrative is a taut as a drum and the dialogue effortless, making North of Sunset a page-turner and an example of an effective piece of storytelling that should be envied." Dogmatika

"The writing is stellar….I think you'll agree it is not so much who influenced the writing; it is who this writing will influence. Trust me when I say that this book is one you buy and one you keep." Poddy Mouth

"Successful both as a suspenseful, engrossing thriller and as something more: a savage satire on aspects of modern American life in the vein of DeLillo's White Noise.…Overall, North of Sunset is an outstanding feat of storytelling that will gain a wide readership." Compulsive Reader

"The rare piece of literary fiction that successfully combines a thriller with a healthy dose of popular culture. As the 'Vanity Plate Killer' roams the streets in the novel, Baum's insights into fame, film, and writing are ever present and welcome." Largehearted Boy

"A satirical, yet eerily naturalistic L.A. fable." Kim Cooper, 1947 Project

"In North of Sunset, Henry Baum has pulled off something pretty amazing: he has written a tight, pacy thriller that manages to lose none of its momentum, even as it reveals itself to be a savage satire on the narcissism, emptiness and ugliness at the heart of the Hollywood dream." Tony O'Neill, author of Digging the Vein

"The best Hollywood novel I've ever read, including my own." Richard Rushfield, author of On Spec

Listed as the #1 self-published novel in Entertainment Weekly

Winner of the Hollywood Book Festival Grand Prize

Stories

My Cherry @ Identity Theory

Michael Sennet Second 1/2 of Chapter One of North of Sunset @ Storyglossia

Michael Sennet 2 pgs. 178-181 of North of Sunset @ Scarecrow

Gentleman Reptile, a story in a single volume published by Cloverfield Press:




Camera Shy (click to read PDF) published by Another Sky Press in:




"Thirteen Mississippi" in 3:AM London, New York, Paris:




"Dishwasher" in Purple Prose:




Part of the 2006 Underrated Writers Project